When I moved to Texas, I stupidly assumed it would always be somewhat warm and that I was avoiding winters altogether.  I packed accordingly, so my closet is stocked with Spring and Summer essentials and pretty much nothing else.  Soon, I realized that Dallas does drop to the low 30's and 20's, and in a panic… called my mother to mail me a coat (Thanks Mom). This past week, Dallas was hit by what Texans are calling "Icemageddon"… a horrendous ice storm that occurs every 2-3 years.  I was "lucky" enough to experience one of these bad boys in my first few weeks since being here.  This was my experience:
On Wednesday afternoon, Dallas was sitting at a comfortable 81 degrees and all was well.
Coworkers began warning me of an upcoming storm that would soon hit us and warning me to stay off the roads.
I scoffed. "I'm from the North East. I know cold. This will be nothing. I mean c'mon. It's in the 80's right now…"
I woke up the next morning on Thursday to temps in the thirties.  My bod was thrown for a loop.
Worked through the day, cold as a popsicle at my desk.  IS THERE NO HEAT IN THIS PLACE?!
Around 2:00pm an email is sent to all employees to head home early since the icy rains were starting. "These people are so overly cautious."
I begin my surprisingly hellish drive home, everyone is panicking.
I stop at the grocery store to pick up some dinner.  People are ravaging the aisles as if the apocalypse is upon us.
I get home, turn up the heat and enjoy a cozy night in.
Friday, the next morning I wake up to an alert that the highways are shut down, my work is closed and they're unsure of when they'll reopen.
I do a happy dance. NO WORK, NO WORK!
I go to take a shower… No hot water.
I go to watch some Netflix… No internet.
I go to the window… No roads in sight.  Only sheets of ice.
WHAT IS THIS TEXAS HELLSCAPE?!?!
I am iced into my apartment… what else is there to do but drink?
So friends walk over.  We drink.  We drink a lot.
Lots of cider.  Lots of spiced rum.  Anything hot.  Down the hatch.
Finally the internet comes back.  NETFLIX FOR DAYS!
Saturday I wake up.  Still no roads cleared.
NETFLIX.
Sunday I wake up.  No roads cleared.
NETFLIX.
Monday morning I wake up to an alert from work warning us not to come into work until around 11am– hopefully the roads will be safe by then.
I get on the road at 11am… they're not safe.
Accidents.
Accidents everywhere.
I finally get to work and it is a ghost town. I'm literally one of 15 people here in a 14 story building.
No cars, no humans, no work to do.
So instead I'll write this blog…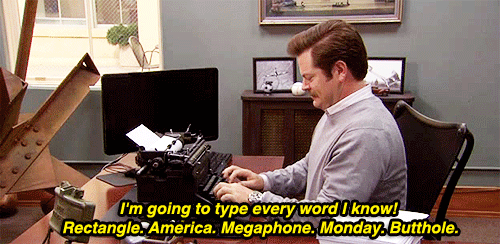 Happy Icemaggedon from my empty office!!